It seems like Leonard Fournette has been on the NFL's radar since he stepped onto the turf at LSU. He entered the Tigers backfield as the top recruit in the nation, and leaves with that title more-or-less unchanged.
Fournette had the pleasure of hearing his name called fourth overall in the 2017 draft. That decision by the Jacksonville Jaguars earned the young man from New Orleans a cool $27 million over the course of the next four years, and made him the sixth highest paid rusher in the league.
This decision took place in the modern NFL. A league which, as many are eager to point out, doesn't value the running back position. However, by ponying up a top ten salary for Fournette, the Jag's have put their money with their mouth is. They are saying that they believe Fournette can be a top tier running back for at least the next four years.
So should we believe them?
Well, like everything in life, the answer is a little more complex than a simple yes or no.
A good place to start is by looking at the man himself. Fournette weighed in at 240 lbs, ran a 40 yard dash in 4.51 seconds, and is strong enough to do this: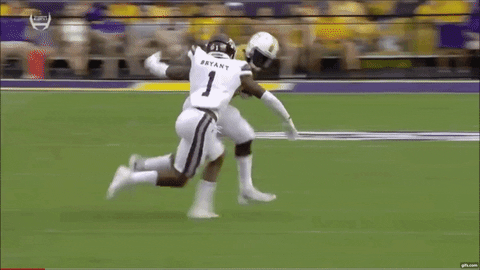 It's his rare combination of size, speed, and production that had NFL teams salivating at the chance to draft this guy. Following the combine, @NFLresearch on Twitter noted that he weighs as much as Clay Matthews, runs as fast as Jordy Nelson, and accelerates as fast as Percy Harvin. That's simply not natural.
There are some negatives, however. For example: Some analysts have knocked Fournette for his lack of use in the passing game, totaling a mere 40 career receptions at LSU. While that number does seem low, it is much more impressive when you realize that LSU's top receiver had a mere 41 catches in all of 2016 (Malachi Dupree). LSU simply doesn't throw often. I can also say that Fournette appeared capable as a receiver the odd time he did catch the ball, and showed well as a receiver at his pro day.
So how does he fit in Jacksonville?
Well, the first thing to consider with a running back is his offensive line. They are the ones responsible for setting up blocks, and opening holes for Fournette. In this department, Fournette could have ended up in a better situation.
The Jags O-line isn't anything special, and it's uncertain whether the acquisition of Branden Albert and rookie tackle Cam Robinson will be much help. If the O-line continues their struggles this will definitely cut into his chances for Offensive Rookie of the Year.
Jacksonville should also be a good test of Fournette's prowess as a receiver, due to the Jaguars tendency to play from behind. If he prove himself capable (and I think he will), there is no reason to take him off the field on any given play. This is also helped by the fact that Fournette is generally a very willing pass blocker. Although, like almost all rookie running backs, his technique needs refinement to succeed in the NFL.
At the end of the day, I believe that Fournette will help his offense greatly. His presence in the backfield will likely cause the opponent to sell-out to stop the run, which will take some heat off Blake Bortles. If Bortles and the rest of the offense can get into rhythm, then the defense will be forces to play more honestly, and take some pressure off the run game.
This is the ideal result for the Jags. A rising tide that lifts all ships. It's also very likely that Fournette will be in for a heavy workload regardless, due to the draft stock invested in him. For these reasons, I have no problem pegging Fournette as a quality RB2 for fantasy purposes, with definite potential to become a top 5 back.
Fournette should be at least a solid contributor for his team. He is a lock for a top 3 rookie pick in dynasty leagues this off-season. At this point, the only thing really holding Fournette back is the quality of the team around him.
Bonus: another GIF showing Fournette's elite combination of burst, power, and speed.  This one also shows his fluidity as a receiver.