The departure of Adrian Peterson marked the ending of an era for the Minnesota Vikings. Peterson had served as the team's identity and most valuable player for almost every season he was healthy. But after missing the majority of 2016, the Vikings realized that he was no longer what the team needed.
With NFL's the continued shift towards a more pass-heavy league, and with Peterson being notoriously out of place in passing situations, the need for a change in offensive philosophy became clear.
Enter Dalvin Cook.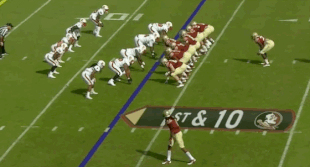 Totaling 4464 yards and 46 trips to the end zone on 687 carries, it's safe to say that Cook knows his way around a football field. If you don't want to do the math, that's a career average of 6.5 yards-per-carry and 15 touchdowns-per-season over the course of his 3-year career with the Florida State Seminoles.
In addition to his gaudy rushing totals, Cook also averaged 26.5 receptions during his time with Florida State. Despite all these targets, Cook only managed to find the end zone twice after catching the ball in his college career.
So, what can Dalvin Cook do for the Minnesota Vikings? Well, that's where things get a bit hazy.
The first part of the puzzle when deciphering running back production almost always involves a look at the offensive line. For anyone who watched any Vikings games in the 2016 season, you're already aware this is going to be a problem. PFF graded the Vikings line 29th overall last season, and for good reason.
The Vikings, like many teams, have looked to improve their line for 2017. They began by releasing the ineffective Matt Kalil, and replacing him with Riley Reiff and Mike Remmers. On paper, these two should slide into the starting jobs at left and right tackle. Whether this move will improve the line remains to be seen, however.
The second obstacle that the young rookie will have to overcome is his supposedly extremely poor athleticism. Cook shocked combine onlookers at the NFL combine when he graded out as a 7th percentile SPARQ athlete. This calls Cook's ability to break long runs and generate explosive plays into question at the NFL level.
Thirdly, Cook's fit in the NFL will depend on whether he can outperform his expectations off the field. He has shown to have multiple off the field issues, which is thought to have been responsible for his fall in the 2017 draft.
If he can manage to get all three of these aspects of his game under control, it is likely that he will have a successful 2017, and beyond. Cook is a wildly elusive back, capable of making people miss on every play. He is already starting to show flashes of this in his first activities with the team (shown below). He was also considered the top back the class prior to his lackluster performance at the combine.
Dalvin Cook has shown throughout his college career that he can turn almost any play into a touchdown. In the NFL, this is his ultimate upside. He can be the type of back that is a home run threat every time he touches the ball.
However, it is more likely that Cook does not achieve these heights during his first season in the league. There is too much stacked against him, including all the factors mentioned above, as well as the recent addition of Latavius Murray.
To me, it is much more likely that Cook serves his first season in the NFL as a fantasy RB2. There is just too much uncertainty to pencil him in as a day-1 RB1, although he certainly has that upside. However, he should have a fine fantasy season based purely on the volume of work he is in line to receive.